AGE: 30
BORN: April 11, 1974
PLACE OF BIRTH: Durham, NC
HEIGHT: 6'2"
WEIGHT: 211 LBS.
BATS: Left
THROWS: Left
HOME: Wilmington, NC
SIGNED BY SCOUT: Jeff Zona, August 1993
MARRIED: Kathryn Fisher
CHILDREN: Chase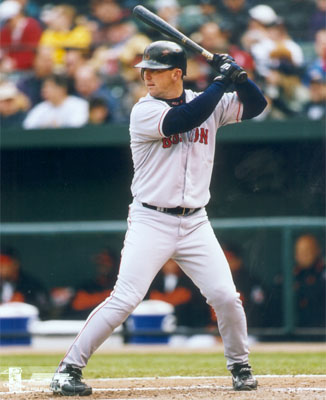 Trot was drafted by the Red Sox in 1993. He was a 1st round pick, 7th overall. He graduated from New Hanover HS in Wilmington, NC. in 1993. He led his team to a 26-1 record and 4-A State Championship. His senior season hit .519 (41-79), had 12 home runs, 56 RBI's, and as a pitcher went 12-0 and .40. He was named HS Player of the Year by Baseball America in 1993.

Trot was brought up to the Red Sox on September 29, 1996, he played in a 6-5 win over New York, he played Right Field and went 2-4 with 2 runs, in that game. This was his first full season AA at Trenton, he played 123 games, he ended with .251 avg, 55 runs, 11 home runs, and 63 RBI's. He played the majority of his time in Right Field, but also played Center and Left Field. In his 2 games with the Red Sox he averaged .500, had 2 hits and 2 runs.
In 1997 he was in Pawtucket again. He also spent most of the 1998 season there. He played 135 games for them, batted .310, had 23 home runs, and 74 RBI's. He was named Red Sox Minor League Player of the Month in July. On September 6, 1998 he was called up to the Red Sox again. He got his first Major League hit of 1998 on September 9, 1998 against the Yankees. He started 4 games in Right Field and 1 in Left. He won 1998 Red Sox Minor League Player of the Year, by Boston Baseball Writers. In his 13 games with the Red Sox he averaged .259, had 3 runs, and had 7 hits.
In 1999 he hit his first Major League home run in Kansas City against Wengert. After his home run he made the score 4-1. This came on 4/9/99. On May 1, 1999, he hit his first Fenway homerun. This came in the bottom of the seventh and tied the game. The Sox ended up beating Detroit 5-4. He had a 8-game hitting streak May 8-16, 1999. He went 8-19, had an average of .421, 4 home runs and 1 RBI. In his 116 starts in Right Field the Red Sox went 70-46. He was co-winner of the Red Sox Rookie of the Year by Boston Baseball Writers, he tied with Brian Daubach. He ended the season with an average of .270, 103 hits, 67 runs, 15 home runs and 52 RBI's.
In his 2000 season with the Red Sox, he has another good year. He had a injury that landed him on the DL on 6/27/00. He had a strained right hamstring. He played 115 gamed with 104 starts in Right Field, and 6 games with 4 starts in Center. He ended the season with 118 hits, 66 runs, 12 home runs and 60mRBI's, with a .276 average.

He hit the first team homerun on 4/2/01 on Opening Day at Baltimore (he also hit a the 2nd team homerun in 2002, against Tampa Bay at Opening Day at Fenway Park.) He went 18-75 averaging .240 in April with 11 RBI's in 23 games during April. On 5/4/01 against Oakland he went 3-5, he had 3 doubles, this was his first game that he hit 3 doubles and was 1 short of the team record. He set a career high in hits on 5/12/01 against Oakland where he went 4-5, with 1 double, and a solo homerun. He went on a 6-game hitting streak from 5/18-5/27. he went 7-21 averaging .333. During the month of May he went 17-66 batting a .258 average, he had 8 doubles, 3 homeruns, 17 RBI's in 21 games. On 6/16/02 against Tampa Bay he had his second multi-homerun game where he hit 2. He had a career high for one month in June when he hit 7 homeruns. During June he played 26 games averaged .290 going 27-93 with 21 RBI's. In 7 games from 6/30-7/6 he had 9 RBI's, hit 3 homeruns, then in 4 games from 7/3-7/6 he hit 3 homeruns. On 7/17 at Montreal he went 3-5 with a solo homerun. This marked a new career-high of 16. From 7/16-7/18 he had 3 consecutive games where he had 3 hits. During July he went 29-93 hitting .312, he had 7 doubles, 4 homeruns and 14 RBI's. He led the team with 29 hits, and ranked 2nd behind Manny Ramirez with 15 runs. He had another 7 game hitting streak from 7/31-86, he went 11-27 averaging .407. In August he went 26-108 averaging .241, he had 4 doubles, 3 triples and 4 homeruns, he also brought in 15 RBI's in 26 games.

2001 was a breakout season for Trot. He played 70 games in Center Field and 83 in Right Field, he ranked up 7 outfield assists. He ranked 10th in the American League for hits against a right-handed pitcher (.393). He set a career high 27 homeruns, 88 RBI's, and 100 runs, he set new heights for himself in 2001. He had 2 of 9 Red Sox grand slams.

He won the Sox on Fox 25 Fan's Choice Award, it is given to the player who plays above and beyond fan expectations. He was awarded a SUV and took the money he made by selling that SUV and donated it to the American Red Cross and Uniformed Firefighters Association (UFA) of Greater New York Widow's and Children's Fund to assist September 11 relief efforts.

"I want to make this donation on behalf of my wife Kathryn, myself, my teammates, and the Red Sox organization."

~Trot Nixon
He won the 2001 Thomas A. Yawkey Award (Red Sox MVP.)

"I'm open to it. That's something that has to be accepted by every single player in that clubhouse. Being [team captain] is also something you can do without actually being named a captain. I've been on teams where there was no captain but everyone knew whom to go to talk to. That could happen here, too. I know my place. I learned that as a rookie. And the last three years, I've tried to know when it was right to speak up. But that's why I spoke up last season because I felt the need to speak from the heart. I don't take this game for granted. I remember how hard I had to work to get here. I just wanted to make sure everyone in that clubhouse remembered what it took for most of us to get here and what a privilege it still is to play this game."

~Trot Nixon

He ended the 2001 season with 150 hits, 100 runs, 27 home runs, 2 grand slams, 60 RBI's and an average of .280.

In April Trot put on his bowling shoes and appeared at the 2001 Nomar Bowl. A charity event hosted by his teammate Nomar Garciaparra. He was among many Red Sox players to play or attend the event.

He came to terms with the Red Sox in January 2002, he had signed a one-year deal with the Red Sox in March of 2001.

In addition to his baseball accomplishments Trot also had a personal accomplishment. His wife, Kathryn, gave birth to their son, Chase on Sept. 11, 2001. He brought Chase to meet his teammates 11 days after his birth.
Some Trot Favorites

~Favorite Food: Chicken & Broccoli Casserole, Nanny's collard greens and dumplins'
~Least favorite food: Squash
~Favorite Boston Restaurant: Too many to name
~Favorite Restaurant on the Road: Plaza III - Kansas City
~Favorite Traditional Holiday Food: Sausage & egg casserole on Christmas morning
~Favorite off season hobby: Fishing, visiting family and friends
Trot's Favorite Recipes*

Easy Chicken Divan
2 (10oz) packages frozen broccoli florets
3 cups sliced and cooked chicken
2 cans cream of chicken soup
3/4 cup of mayonnaise
1 teaspoon lemon juice
1 (8oz) package grated sharp cheddar cheese
2 cup croutons
1/8 teaspoon curry powder (optional)

Cook broccoli according to directions, drain. Arrange broccoli in a greased 12x7x2" casserole dish, layer chicken on top. Combine soup, mayonnaise, curry and lemon juice in separate bowl. Pour over chicken. Sprinkle with cheese. (You can cover and refrigerate until cooking time, will keep for 2-3 days) Layer croutons on top before baking. Bake uncovered at 350 for 35 minutes. Serves 6-8

Christmas Morning Casserole
1 pound sausage
6 eggs
2 cups milk
1 tablespoon mustard
1 (8oz) package grated sharp cheddar cheese
6 slices of bread cubed
1/2 teaspoon salt

Brown and crumble sausage, drain on paper towel. Beat eggs. Mix all ingredients together, including sausage. Pour in greased 9x13" casserole dish. Prepare, cover and refrigerate Christmas Eve. Bake at 350 for 1 hour on Christmas morning. Compliment dish with grits and baked apples. Serves 6-8.