12/08/2003 11:59 PM ET

Nomar speaks his mind
| | |
| --- | --- |
| By Ian Browne / MLB.com | |
| | |
| --- | --- |
| | Nomar Garciaparra and his wife Mia Hamm (left) honeymooned in Hawaii. (Angela Rowlings/AP) |
BOSTON -- As all-sports radio station

WEEI

in Boston was being flooded with calls Monday about the possibility of slugger Manny Ramirez being traded to Texas for Alex Rodriguez, a rather interesting call came in from a third party that would be directly impacted by such a deal.

The caller was none other than Sox shortstop Nomar Garciaparra, who was wrapping up his honeymoon in Hawaii with soccer star Mia Hamm.

While reports have surfaced over the last couple of days that Red Sox owner John W. Henry has already had conversations with Rodriguez and might talk to the superstar shortstop again later this week, Garciaparra wonders where all this will leave him.

If the Rodriguez-Ramirez blockbuster is completed, it is all but certain that Garciaparra will be moved in a subsequent or simultaneous deal.

If that ends up being the case, Garciaparra -- who has played his entire seven-year career with the Sox -- will be saddened to see his Boston days come to an end.

"I'd definitely be hurt," Garciaparra told WEEI. "I'm in a place that I've given so much of my life and so much of my effort."

If Garciaparra has his way, his career in Boston will continue for many years to come.

"I think I've gone out there putting that uniform on, and showing the respect of that uniform, I mean it's the only uniform I've known since becoming a professional baseball player," Garciaparra said to talk show hosts Dale Arnold and Bob Neumeier. "And I've always said that's the only uniform I want to know when my career is over."

In his impromptu radio interview, Garciaparra showed an expressive side that was in contrast to the stoic way he has gone about his business since joining the Red Sox.

Why did he call the radio station?

For one thing, Garciaparra is sick of reading reports that he'd like to play in his native land of Southern California. He wanted to set the record straight, while also letting the fans know that it is his strong preference to remain with the Red Sox.

"I don't think I've ever said publicly, or privately, that I've ever wanted to leave Boston, or play somewhere else, or put another uniform on," he said.

In fact, Garciaparra bought a house in the Boston area shortly before his wedding.

Garciaparra sounded surprised that the Red Sox have not kept him apprised of whatever is or isn't going on with A-Rod.

"The Red Sox haven't contacted me or told me anything," he said. "You know, they have not told me what their intentions are."

The Red Sox have steadfastly refused to confirm or deny the rumblings of a Rodriguez-Ramirez blockbuster.

But Rangers owner Tom Hicks did confirm that a get-acquainted session took place between Henry and Rodriguez.

And Rangers general manager John Hart said Sunday night that he'd like to have closure to the situation by the end of Major League Baseball's Winter Meetings, which run from Dec. 12-16 in New Orleans.

"As long as this potentially is alive, it precludes us from having a road map of what we can do with anybody else," Hart said. "The sooner we have a resolvement, the better."

Hart has an extensive history with Ramirez from his days as the Indians general manager. Ramirez broke in with the Indians before signing with the Red Sox as a free agent on Dec. 13, 2000.

In fact, Hart fought hard to keep Ramirez at that time, but couldn't come up with the financial package to match the Red Sox.

Ironically, part of the reason Hart and the Indians couldn't keep Ramirez is because the Rodriguez deal (10 years, $252 million) had just been struck with the Rangers two days earlier, which drove up the market at that time.

An A-Rod-Manny swap is far from a foregone conclusion. In the meantime, Garciaparra will play the waiting game.

But he hopes to be back playing in front of the rabid Fenway faithful come April.

"I've always felt and believed that your actions speak for themselves," Garciaparra said. "And I thought my actions have spoken pretty strongly that I've wanted to be there."
Shortstop content to stay in Boston

By Tony Massarotti / Boston Herald

Monday, December 8, 2003

<!MW-SPORT!>

<!MDN-SPORT!>

<!DN-SPORT!>

<!NVD-SPORT!>

<!SUMM!>Nomar Garciaparra is still on his honeymoon, ironically enough, but even he seems to know he may be headed for a breakup.<!ENDSUMM!>

And he's not entirely sure why.

"Basically, what I'd like to say is that I know there's always been this speculation that I'm unhappy there (in Boston). I've heard it and read it -- that I want to go home (to California) and I'm unhappy -- and I don't know where that comes from," Garciaparra said by phone yesterday, slightly more than two weeks after being wed to women's soccer star Mia Hamm.

"No words have ever come out of my mouth -- publicly or privately -- that I don't want to be there," Garciaparra said. "I also believe that my actions have shown I don't want out of there. I go out there and play hard and give it my all, day in and day out, not just on the field, but off. I have a (charitable) foundation there. I'm coming back in January to do my 10th hitting camp, I think.

"Before we got married, my wife and I purchased a new home (in the Boston area)," Garciaparra concluded. "If you look at all that, I wouldn't do all that stuff if I wanted to leave."

These are indeed strange times for Garciaparra, whose Red Sox career appears destined to close just as his new life away from baseball has officially begun. Six years after unanimously winning the American League Rookie of the Year Award, Garciaparra has only one year remaining on a seven-year, $45.25 million contract. Coupled with the unhappiness of Manny Ramirez, that reality has led the Red Sox to aggressively pursue a trade that would send Ramirez to the Texas Rangers and bring all-world shortstop Alex Rodriguez to Boston.

Garciaparra yesterday politely declined to comment on his relationship with Rodriguez -- "I really can't comment on him or what's going on there," he said -- and he expressed no anger or ill will toward Red Sox ownership or management, with whom, he said, he has a good relationship. Yet the reality exists that Garciaparra is gone if and when Rodriguez arrives, and informed baseball sources made it clear over the weekend that the Red Sox and Rangers are doing everything possible to complete the trade involving the only two $20 million-a-year players in baseball history.

While completion of the deal might eventually involve the restructuring of contracts for one or both primary talents in the deal, Garciaparra's future is now far less certain. Garciaparra is due $11.5 million next year and acknowledged that he and agent Arn Tellem rejected the Red Sox proposal on a contract extension before the 2003 season, but Garciaparra said that at no point has he given up hope that a deal could be struck.

Garciaparra said there have been discussions between Tellem and club officials this offseason, but offered no specifics regarding those talks. Two weeks ago, Tellem indicated that he believed a deal could be reached if the Sox were committed to re-signing Garciaparra.

To date, Garciaparra has undoubtedly been seeking a deal that would place him closer to someone like Rodriguez (a $25.2 million annual average) or New York Yankees shortstop Derek Jeter ($18.9 million), but the market has changed considerably since then. Current free agent shortstop Miguel Tejada, for instance, will likely end up with up with less than $10 million in the current market.

"My heart and my first option have always been (with Boston) and it hasn't strayed from that," Garciaparra said. "The ball's really in (upper management's) court. But if there is any question about my unhappiness, that's been answered."

While the Los Angeles Dodgers and Anaheim Angels are obvious candidates for Garciaparra's services given the player's native roots in Southern California, Garciaparra's contract with the Sox does call for an interesting provision if the player is traded. One of them would require the Sox to pay Garciaparra the appraised value of his Boston-area home if he is unable to sell the property within six months; and if Garciaparra were to sell his home at a loss, the Sox would be required to make up the difference.

Garciaparra also confirmed reports that he and Hamm have a home in Texas, but Garciaparra laughed at speculation that the home meant he has any desire to play for either the Rangers or Houston Astros.

"I wish the person who wrote that would get a map of Texas," said Garciaparra, whose new home is in the Austin area. "It would be like someone saying now that I want to play in New York -- that's how far I live from any team in Texas right now."

Often criticized in Boston for a reluctance to deal with the media and be the charismatic spokesperson the club could more easily and more effectively market, Garciaparra acknowledged he doesn't "make life easy for (the media) and I admit it." But he believes he has accommodated Sox officials when asked to represent the team and said he has never done anything to disgrace the Red Sox.

During his Sox career, Garciaparra has batted .323 with 1,231 hits and 173 home runs. In addition to his Rookie of the Year honor (1997), he has won two batting titles (1999 and 2000) and finished as high as second in the AL Most Valuable Player Award balloting (1998).

"I think I'm kind of like the fans are. If you were a fan looking at this, you might think, 'Are they really considering this option?' " Garciaparra said when asked if he would be disappointed at being traded.

"I've always respected the uniform that I've worn. It's been the only uniform I know and it's the only uniform I want to know for my entire career," Garciaparra said. "That's basically how I feel."
11/26/2003 2:02 PM ET

Nomar up for Player of Year
| | |
| --- | --- |
| MLB.com | |
This Year in Baseball Awards

Talk about a crowded house. Nomar Garciaparra might be the biggest name in Boston's offense -- both by reputation and strength of syllables -- but he wasn't alone in terms of success. The Red Sox had the best offense in baseball, and they had three players finish in the top seven of the AL MVP race.

David Ortiz and Manny Ramirez did it from primarily offensive positions.

Garciaparra, on the other hand, provided his offense from a defensive slot. And he did enough to earn one first-place vote and two runner-up votes, even if he eventually finished third among his teammates.

Perhaps, in that respect, he was a victim of his own success. Garciaparra has been a consistently excellent offensive player, and this year's stats (.301 average with 120 runs scored, 28 homers and 105 RBIs) don't stand out against his past performance. None of those gaudy numbers are career highs, which speaks to his spectacular track record.

Last season more than 300,000 votes were cast in the inaugural "This Year in Baseball Awards." Alex Rodriguez took home top player honors while John Smoltz was voted the top pitcher in all of baseball. Voting for the 2003 awards ends on Dec. 2. Winners will be announced live on MLB.TV at 2 p.m. ET on Dec. 4.
Nomar, Mia sign life contract


By Gayle Fee and Laura Raposa

Red Sox

shortstud

Nomar Garciaparra

and his soccer sweetie,

Mia Hamm

, tied the knot in Santa Barbara last night in a ``devout service'' on the grounds of a sprawling private estate overlooking the Pacific Ocean.<!- NDSUMM!>

The sporty lovebirds swapped ``I dos'' in front of nearly 400 friends, family and teammates as the sun went down over the ocean.

``It was beautiful, just amazing,'' said Nomar's uncle - and one of his two best men -

Victor Garciaparra

. ``Nomar said the only thing that could make the day any better was if he knew he was going to stay in Boston.''

Garciaparra is in the last year of his contract with the Red Sox and the subject of intense trade speculation. But despite conjecture that he wants to play for a Left Coast team, Nomar's been letting it be known that he - and his new wife - want to stay in Boston.

The wedding came a year after Nomar and Mia got engaged and two years after No. 5 and No. 9 publicly announced they were a couple. Mia's maid of honor was her sister,

Carol

, and both Victor and Nomar's brother,

Michael

, stood up for the groom.

The bride wore a dress she bought in New York while Nomar was outfitted for his tux by Boston-bred designer - and Garciaparra pal -

Joseph Abboud

.

The wedding ceremony was a super-secret affair - presumably so none of the paparazzi parked in front of

Michael Jackson

's nearby Neverland Ranch would crash. In fact, the operation was so stealthy, wedding guests weren't even told where the Big Event was to take place until just before the ceremony!

``The invitations came without the details,'' said one wedding spy. ``Guests were given a list of hotels in the area where they could stay. Once they were in Santa Barbara they were given a phone number to call with a password and that's how they found out the time and the place.''

As for the invites, we're told that they were adorned with hearts with Nomar's No. 5 inside one and Mia's No. 9 inside the other. The invitations also informed guests there were to be no cellphones, cameras, video equipment or autograph hunting during the bridal hoedown.

In fact, Nomar and Mia were so adamant about keeping their Big Day private, they turned down a number of offers from magazines to sell the wedding photos.

As for the guest list, we hear that a handful of Nomar's teammates, including big bud

Lou Merloni

and catcher

Jason Varitek

headed to the Left Coast for the festivites.

All of Mia's teammates from the

Washington Freedom

were on the list, as well as all of the gals on the National Team. And that would include Mia's pals

Kristine Lilly, Angela Hucles

and

Kate Sobrero

from the

Boston Breakers

, soccer stars

Brandi Chastain, Julie Foudy

and

Joy Fawcett

and some of Mia's old

Tar Heels

teammates such as

Carla Overbeck

.

Nomar, the two-time American League batting champ, met Mia, the world's all-time leading soccer scorer, five years ago when he lost a charity penalty-kick contest to her at

Harvard

. Mia, who was the main attraction for the now-defunct

WUSA

, felt bad and chatted him up.

The two became big buddies and the Red Sox slugger, who had been linked to a string of eligible babes including actresses

Lauren Holly

and

E!

channel chick

Jules Asner

, went on the bench, dating-wise.

Two years ago Hamm and her then-hubby,

Marine Capt. Christiaan Corry

, divorced and shortly thereafter she and Nomar began publicly dating. They've been pretty much inseparable since.

Mia was a fixture in the stands behind Fenway's home plate when she wasn't on the soccer field. And Nomar - who could have gone to college on a soccer scholarship - would cheer his honey from the sidelines whenever his schedule permitted. The two spent all their offseason time together.

Mia,

U.S. Soccer's Chevrolet Female Athlete of the Year

an unprecedented five years in a row, reportedly plans to compete in the

2004 Olympics

and then hang 'em up to be Mrs. Nomar full time.

A move to trade - or re-sign - Garciaparra could come during the off-season.

File Under: Happily Ever After.
A Wedding Story
By Dan Shanoff
Page 2 columnist



Have you heard about the Boston hero and world-famous hottie getting engaged? Move over, Ben and J-Lo: Nomar Garciaparra and Mia Hamm are going to tie the knot!

I now pronounce you Mr. & Mrs. Curse of the Bambino.

At Page 2, we've already proclaimed it our "Sports World Wedding of the Year" not that we're angling for an invite (hint, hint!). We've heard whispers that the couple is considering "Take Me Out to the Ballgame" as their first dance, that Hamm's bridesmaids will be wearing U.S. Women's National Team soccer jerseys and that "Nomah's" groomsmen will be wearing "Monster Green" bowties and cummerbunds. (Beats the usual bridesmaid dress-hell.) Of obvious interest is who Boston's Most Eligible Bachelor, Sox GM Theo Epstein, will be taking to the party.

More importantly, we've made some calls and gotten the inside scoop on some of the stuff they've registered for. So whether you are going to the big event or just want to sound like you are, check out the list below:

For the Bedroom/Boudoir
1 -- Comforter
Mia and Nomar say: "Preferably something in the "Don't worry, Sox fans, there's always next year"variety!"

For the Kitchen
1 -- John Henry Williams-style ice-cube maker/storer/holder
Mia and Nomar say: "Yes, that's cold."

1 Grill
1 Roaster
1 Cleaver
1 Hot Pad
1 Steamer
Mia and Nomar say: "A hint to all you baseball writers out there. As if the pressure to perform in Boston isn't tough enough!"

1 -- Six-Quart Hand-Cranked Stove-top Popcorn Popper
Mia says: For those pre-game, get-fired-up parties with my team! (Nomar says: Just as long as we don't invite Carl Everett.)"

1 -- Silicon spatula
1 -- Steel-lever ice-cream scooper
Nomar says: "I saw 'Stripes.' "

1 -- Pasta machine
Mia says: "What self-respecting athlete couple doesn't load up on the carbs?"

1 -- Stoneware covered butter dish
Nomar says: "I like to spread it in my glove to soften it up."

For the Living Room
1 -- TiVo
Mia and Nomar say: "So we can watch replays of each other when we're home from road trips."

6 -- High ball glasses
Mia says: "That's my header! I got it!" Nomar says: "Back off, baby! That's my ball!" Mia says: "Don't mess with me, sweetie!" Nomar says: "What a competitor! I love her!"

1 -- Karaoke machine
Mia says: "Because my singing voice needs a whole lot of help! Oh wait: That's J-Lo."

For the Dining Room
8 -- Place settings
Nomar says: "Or maybe just a decent leadoff hitter to set the table for me."

8 -- Placemats
Mia and Nomar say: "Just ask for the special 'Green Monster' color pattern!"

8 -- Napkin rings
Mia says: "Did we say 'napkin rings?' We meant 'World Series rings!' Easy mistake, given how close Nomar has come to them.

Friends don't let friends wear matching jerseys.

For the Bath
1 -- Pert Plus gift set
Mia and Nomar say: "Ever since Mia's endorsement contract ran out, we just can't get our hair as bouncy and shiny with the other stuff!"

1 Sonic toothbrush (two brush heads)
Mia says: "Endorsement dollars don't go to the coffee-stained smiles!"

For the Home Office
1 -- Weight-lifting/exercise set
Mia says: It was Nomar's buff body on that SI cover that first got me interested. Wouldn't want him to get flabby!"

1 -- FIFA World Cup 2003 (for Xbox or PlayStation 2)
Mia says: "I'll show that Milbrett who's STILL the boss!"

1 -- Tom Emansky hitting video
Mia and Nomar say: "Back-to-back-to-back AAU champions can't all be wrong!"

1 -- Replica American League MVP trophy
Mia and Nomar say: "What? Like Nomar will ever win a real one?"

"His 'N Her" (Miscellaneous)
8 -- Locker-room towels
12 -- Sportsbra/jockstrap combo pack
4 -- Cleats
2 -- Garment bags
2 -- Jersey frames
2 -- Bobblehead dolls

1 -- Minivan (selected styles)
Mia says: "For my future career as a world-class soccer mom, naturally. (Manny can afford it.)"
AGE: 30
BORN: July 23, 1973
PLACE OF BIRTH: Whittier, CA
HEIGHT: 6'0"
WEIGHT: 190 LBS.
BATS: Right
THROWS: Right
HOME: Boston, MA
SIGNED BY SCOUT: Luke Wrenn, July 1994
BREAKING NEWS!!!
Nomar and Mia are getting married the Saturday before Thanksgiving in Santa Barbara, California...
Mia is going to retire from the soccer world to make more little Nomar's for the Red Sox to grab a hold of...
(look out ladies!! If you thought Nomar was hot, I can't wait to see what his little ones will look like!!)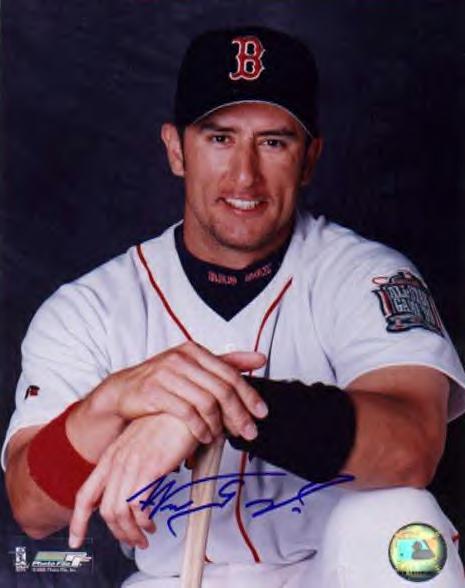 Nomar's Story

= The Early Years =

Anthony Nomar Garciaparra graduated as a three sport all-star from St. John Bosco High School in his home of Bellflower, CA in 1991. He was drafted by the Milwaukee Brewers that summer, but elected to attend college instead of trying his hand at pro baseball. Nomar began attending Georgia Tech the following fall, majoring in business management, and played Shortstop for Tech for three years before being drafted by the Red Sox. In 1992, Nomar was elected to the Summer Olympic Team, and voted ACC rookie of the year and made All-America first team with his .363 batting average. He also represented the U.S. in the World All-Star game in Tokyo. Two years later, In his Junior season, hit .427 for Tech, hitting 16 homeruns and becoming only the first player in school history to reach 100 hits in one season. He also helped lead Tech to their first ever appearance in the college world series. Honors that year included: 1st Team All-ACC, All-ACC Tourney Team, Oustanding Player at Midwest II Regional, All-College WS Team, 1st Team All-American (By ABCA, Baseball America, Collegiate Baseball, and NCWBA). Red Sox General Manager and all-around visionary Dan Duquette made the impressive junior his first Red Sox draft pick (12th overall) in the 1994 June Draft.
-Pawtucket-
In 1996,in the middle of only 3rd season in the Red Sox minor league system, Nomar was called up from the Sox' AAA affiliate, Pawtucket. Early in the year, while still playing for the Paw Sox, Nomar's start was delayed by an ankle injury, but began to pay off instantly as soon as he was in the lineup. In his first game back from the injury (April 15), Nomar went 3-5, with a stolen base, 2 homeruns, 3 runs scored, and 5 runs batted in. But again, Nomar was placed on the disabled list with a knee injury just four days later. Even though Nomar was on the DL until July, 11, he still managed to hit .343 with 16 homers for Pawtucket in limited action.
-Boston-
Nomar's impressive performance in 1996 earned him an August 31st call up to the Boston Red Sox. Nomar made his major league debut that night, and hit his first major league homerun the following day off of Oakland starter, and future teammate, John Wasdin. In Nomar's starts, the Sox were 14-7, and Nomar ended the '96 season with a .241 average, 4 homers, and 16 RBI in 24 games.
=1997=
Nomar began the 1997 season with the Red Sox, and was part of a spring controversy involving incumbant Shortstop, John Valentin. The team heirarchy wanted Val to move to second, to make room for Nomar, and keep both of their bats in the lineup. (not to mention fill a team weak spot that has existed since Jody Reed's departure to San Diego several years ago) Val wasn't too keen on the idea of moving to second, he had been a Shortstop all his life, and caused quite a pre-season melo-drama. Eventually, Valentin moved to second (still amidst trade rumors), and to everyone's delight, both have excelled. Nomar started the 1997 regular season strong. He busted out of the gate with a .349 average, with 3 HR's, 12 RBI, and 5 stolen bases in just 18 games. In those 18 games, he had 9 multiple hit efforts. He was phenomonal. (Projections are often foolish and sometimes annoying, but Nomar, at that pace, would have hit .349, with 27 homeruns, 108 RBI, and scored 126 runs, and stolen 45 bases. Can you say MVP, nevermind Rookie oi the Year) Nomar's tear continued until mid May, when another bout with the injury bug brought him down, and took his average with him. Garciaparra has rebounded frow his injury and the resulting slump. (See below Statistics) Nomar has little or no competition for American League Rookie of the Year. And was recently named a reserve on the 1997 AL All-Star team. Nomar is the first Red Sox Shortstop to make the All-Star Team since Rick Burrelson in 1979, and the first Sox rookie since Fred Lynn in 1975. Nomar is also the lone Red Sox representative. At the aformentioned All-Star Game, Nomar participated in the Rookie Homerun Derby. Nomar was the last to hit, and won the derby with 3 homeruns.The last one a 436 foot blast. (Note: he had 3 outs left, but decided to stop there, since he had already won.) Because of his success in the Rookie Division, Nomar earned a place in the regular homerun derby. Nomar competed with Homerun legends such as Mark McGwire and Ken Griffey Jr, and, as one might expect from a rookie in his first all-star game, nevermind homerun derby, Nomar hit no homeruns. Still, Nomar's performance in the Rookie Homerun Derby will undoubtedly open more eyes to the talented shortstop. Also, it may sway more votes in Nomar's direction as far as Rookie of the Year is concerned (as if he needs it) Nomar began another impressive streak near the end of July. Nomar raised his batting average far above .300, and assumed the league lead in Hits, Runs, and Triples. He also entered the top 10 in Doubles and Stolen Bases. In an even more surprising statistic, Nomar has been battling with Team powerhouse, Mo Vaughn, for the team lead in Runs Batted In. As of August 25th, Nomar had hit in 27 straight games, breaking the record of Guy Curtright, of the 1943 Chicago White Sox, for AL rookie hitting streak. The streak ended at 30, just 4 short of the Red Sox team record, and the Major League Baseball rookie Record (set by Benito Santiago in 1987)
=The Future=
The future for Nomar Garciaparra is, hopefully, certain. He will remain as the team's starting SS for many years to come. Nomar has the ability and the potential to become the greatest shortstop the American League has seen since Cal Ripken in his glory days. Unlike in years past, the Shortstop position is very deep in the American League. With rising stars like Alex Rodriguez, Derek Jeter, and, of course, Nomar, the competition each year for AL All-Star shortstop will be interesting. Many believe, including several people who have mailed me as a result of this page, that Nomar is the cornerstone which The Boston Red Sox will build around. Nomar has all the tools, the hitting knack, speed, power, glovework, and baseball savy, to be a premier leadoff hitter in the major leagues well into the 21st century. Any baseball expert will tell you that a skilled leadoff hitter is one of the most imortant components to building a championship ballclub. With the supurb infield the Red Sox posses (Vaughn, Valentin, Garciaparra, and Naehring) and the tools to put together a strong outfield and pitching staff (Cordero, Bragg, O'Leary, Jefferson, Sele, Suppan, Rose, and the #2 minor league system in all of baseball) The Red Sox, behind Nomar Garciaparra could easily be pennant contenders in a matter of 3 or 4 years.