AGE: 30
BORN: November 5, 1973
PLACE OF BIRTH: Fort Riley, KS
HEIGHT: 6'2"
WEIGHT: 190 LBS.
BATS: Left
THROWS: Left
HOME: Overland Park, KS
ORIGINALLY SIGNED BY: Kansas City, June 1992
CHILDREN: Madelyn and Jackson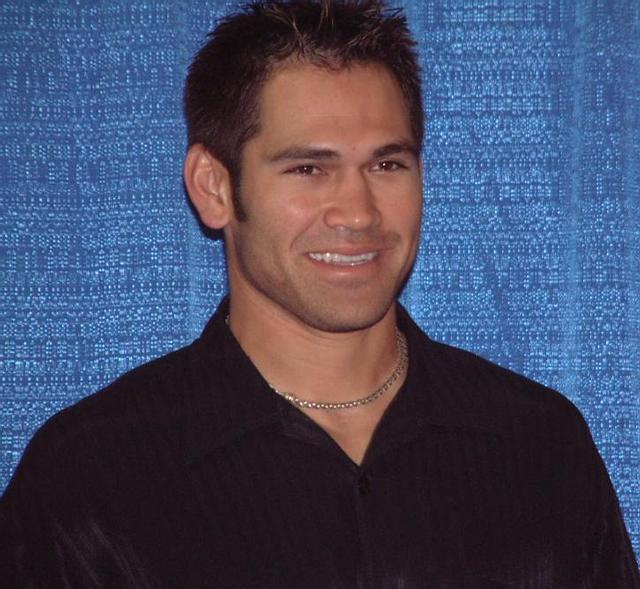 JOHNNY DAMON BIO
NAME: Johnny David Damon
Johnny became a free agent at the end of the 2001 season and signed with the Boston Red Sox on December 212, 2001. He quickly became a fan favorite with his all around hustle.
Johnny Damon was originally signed by Allard Baird after he was selected as a sandwich pick between the first and second rounds of the June 1992 draft as compensation for the signing of Kurt Stillwell by San Diego...He graduated from Dr. Phillips High School (Orlando, FL) in 1992...Named to the USA's Today's High School All American Team....Named the Florida Gatorade Player of the Year as a senior...He has served as honorary co-chairman of the Medical Center of Independence Benefit Golf Classic every year since 1996...Also serves as a spokesperson for the Muscular Dystrophy Association...He has been nominated for national honors such as the Roberto Clemente Man of the Year award, for outstanding service to his team and community and the Branch Rickey Award, which is given to the MLB player who best personifies "service above self."
QUOTES
1. "Boston has always been at the top of my list. After the Everett trade I knew they needed a centerfielder and leadoff hitter. I told my agent Scott Boras to get the deal done."
2. "I hope someone is up there kicking his ass. Hopefully Teddy Ballgame is doing what he can!"
3. "We know we have a very good team on paper and we need to show we have good team chemistry. Last year there might have been some bad blood between people but that's gone. It's time to move on and get us back in the playoffs."
4. "Red Sox Nation is very big."
5. "The Yankees are making those moves because they are afraid of us and they know we're very strong team and we're capable of playing together and long winning streaks. We have them."
6. "We don't fear anyone. Hopefully we'll have people fear us. We think we're good and that's a great way to think."
7. "It's a great feeling. I wouldn't trade it for the world," Damon said.
8. "You see the freak behind you dancing? That wasn't happening here last year," Johnny Damon said, remarking on the happy feet of teammate Carlos Baerga."
9. "Unfortunately I know quite a bit about [the Yankee's aura], too," chuckled Damon. "But it's time to give the Babe a shot of tequila and take it to the next level. We have the team to do it. It's going to be a fun year."
10. When asked how the opening ceremonies were?
"It was all of it," Damon said. "It's not very often you get to see world champions in football be on the same field as you, a new Red Sox team, a sold-out crowd, our heroes fighting the war for us, flying over our heards, Steven Tyler singing..."
RANDOM JOHNNY FACTS
-- Johnny is half Thai, his parents met when hsi Dad was in the Army.
-- He went to high school with Joey Fatone, of NSYNC.
-- Before moving into his house, Johnny was living in a Boston hotel for 13 weeks.
-- He has twins, Jackson and Madelyn.
--Johnny is currently 1 of 2 active players to have scored 100 runs in 6 straight seasons.
-- 6TH STRAIGHT YEAR JOHNNY SCORESS 100 RUNS
In a year where Johnny marked his 100th career homerun, he added another milestone against Baltimore when he hit a double to lead off teh game and scored in the 1st inning for th 100th time this season. Johnny now has scored 100 or more runs in 6 straight years.
The Red Sox went on to win 7-5. Manny, Trot and Ortiz all had homeruns.
-- 30 STOLEN BASE RECORD FOR JOHNNY
Johnny has become the first Red Sox player in 89 years to steal 30 or more bases in back to back seasons!!!
SOME OF JOHNNY'S FAVORITE THINGS TO DO:
FOOD: Filet Mignon cooked medium rare
TV SHOW: That 70's Show and Malcom In The Middle
TV SHOW RERUN: Two Guys And A Girl
COLOR: Blue
MOVIE: Kissing A Fool
MUSIC GROUPS: Pearl Jam, Our Lady of Peace and Dixie Chicks
SPORT (OTHER THAN BASEBALL): Football
ATHLETE ADMIRED GROWING UP: Cal Ripken Jr.
HOBBIES: Playing Playstation 2 with his kids, Fishing and Golf
ACHIEVEMENTS
1. 1998
Only player in the ML to reach double figures in:
doubles: 30
triples: 10
homeruns; 18
stolen bases: 26
2. 1998
Had a career high 10 outfield assists.
3. 2000
Became the 4th player in Royals history to collect 50 hits in one month when he went 51-117 (.436) (July 2000).
4. 2000
Led AL in SB's (46).
5. 2000
Led AL in RS (136)
6. 2002
Led AL in 3B's (11)
7. 2002
Only player in AL to reach double figures in:
doubles: 34
triples; 11
homeruns: 14
stolen bases: 31
8. 2002
Voted to his first All-Star Game.
9. 2003
Only player in history to hit a single, double, and triple in one inning. (June 27, 2003).
RECORDS
1. 2000
Holds the Royals Season Run Scoring Record with 136.
2. 2000
Tied ML Record with 4 doubles in a game- 7/18/00
3. 2000
Holds ML Record of leading off 10 straight games with a hit- 4/26/00-5/7/00.
4. 2000
Tied AL Record with 15 hits in a four game span going 15-22 (.682) in that stretch-7/18/00-7/21/00
5. 2000
Holds AL Record for not committing an error in 592 consecutive chances- ended September 2002.
6. 2003
Tied Record for most hits in an inning (3)-6/27/03.